Have you ever noticed that when you're watching anything on #HGTV, that demo day makes everyone so excited?  We had so many people coming out of the woodwork, asking if they could help us demo the house.  It was hilarious.   I think everyone just likes to get out their aggressions and break things.
Joe also comments when watching HGTV, "You do not just go at a wall with a sledge hammer!!!  What are these people doing???"   He swears by the #Sawsall to more efficiently demo the walls.
Hint: The beautiful thing is that based on Joe's estimate, we probably saved $5K-10K by doing our own demo, so that's a huge bonus.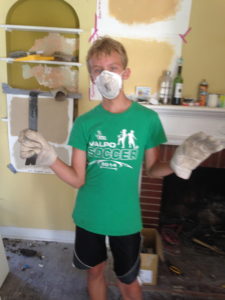 Well… our demo day became demo days, as the process took longer than you see on TV.   But the results have been so cool to see: